Latest News
Making your ideas take shape
Our History of Quality Plastic Extrusion - 10/6/2016
SFR Industries was founded way back in 1978 in a facility that was only 1,800 square feet. Back then plastic extrusion wasn't as dynamic of an industry as it is today, but we knew it was only a matter of time before plastic extrusion gained widespread popularity among manufacturers of consumer goods. We made it our commitment to focus on the needs of our customers in order to create innovative and high quality plastic products. As time went on and our reputation for excellent customer service and quality craftsmanship grew, so did our company. We continued to expand, to the point where we now occupy a 66,000 square foot facility in Cadott, Wisconsin. Along the way, we continued to add experts to our team to round out our capabilities and ensure that we would be an industry leader for years to come. Our management team has over 150 years of combined experience in the field of plastic extrusion!
Obviously, the possibilities of plastic extrusion have expanded dramatically since our early days, largely thanks to the equipment that is now on the market. To keep up with these changes, we have a state-of-the-art facility with all of the latest machining tools so that no project is too difficult for us to handle. Our value-added services make us your complete resource for plastic extrusion and related services from start to finish. We want to provide such a high standard of quality and customer service that you come to see us as more than a plastic extrusion company; we want you to feel like we're an extension of your business, because we are a team that you can count on! We value ongoing partnerships where there is trust and a steady stream of communication on both sides.
To find out more about what SFR's amazing team can do for you, please request a quote or give us a call today. We look forward to impressing you with our technical knowledge and our dedicated customer service. To learn more about us from some of our previous customers, click here.
Industry Update: Poly Extrusion Technology - 9/23/2016
A little while ago, we told you about the interesting advances in poly extrusion technology as it is being applied to composite products for building decks. As we said, many manufacturers are now using a poly extrusion process to create planks that are made from a mixture of plastic and wood pellets. These composite materials are then used to build decks that look like a traditional wooden deck, and yet stand up better to moisture and other elements because of their plastic structure. A composite deck will last long and is much easier to maintain. Because of this, it's becoming quite standard in the construction and carpentry industries. As this technology continues gain popularity, changes are being made to the material itself so that it's more durable and useable than ever before.
One current problem with composite decks is that they can become very hot during the summer months, absorbing high levels of heat from their surroundings and from the overhead sun. This can make them painful to walk across in bare feet, reducing the comfortability of a space that is supposed to be like a seasonal extension of a home. That's where "cool deck technology" comes in. Poly extrusion manufacturers who create deck composite materials are now developing materials specifically with the heat problem in mind. It's claimed that this new poly extrusion method will create a product that absorbs 35% less heat than traditional composites (plasticnews.com). That means improved functionality and ultimately a higher demand for plastic deck building products. This is important, because in 2014 alone there was 41% growth in the composite market (plasticnews.com). One of the best parts of this trend is that recycled plastics can be used in products like deck composites.
It's clear that the demand for poly extrusion is on a sharp rise. Various industries are beginning to see the potential of poly extruded products, and as they are the demand continues to grow. Here at SFR Industries, we're proud to manufacture high quality poly extrusions that meet and exceed the needs of your application. Contact us today to learn more about what we can do for you.
SFR's Industry - Leading Approach to Plastic Extrusion - 9/14/2016
More and more companies are shifting to the use of plastic materials today because they are lightweight, they don't corrode like metal, and they can easily be molded into whatever shape necessary. At SFR, we are well aware of this trend, which is exactly why we offer custom plastic extrusions that end up being used in a very wide range of applications. To give you a sense of how versatile our manufacturing capabilities are; our plastic extrusion products have been used in furniture, construction, store fixtures, original equipment manufacturing and more. There's no industry or application that we can't create a plastic extrusion for! We know that you'll appreciate the high production rate and relatively low cost of plastic extrusion, so we do whatever we can to make the design and production process easy for you.
While you may be able to go to another company for custom plastic extrusions, there are a number of reasons why you should choose SFR. First of all, we use premium materials to create a product that will last. When your project begins, we'll start by figuring out exactly what your plastic extrusions will be used for in their final application so that we can choose materials accordingly. We use over 65 different materials that are each optimal for a specific purpose. We're also highly communicative throughout the duration of your project so that there are no surprises along the way. We don't just take your specifications and then deliver a final product that you may or may not be happy with; we listen to your feedback along the way and then determine the best way forward.
Another distinct advantage that you'll notice when you work with SFR Industries is that we are highly experienced in the field of plastic extrusion. We've been in business for 37 years and counting, which means that we've learned a lot along the way. You'll benefit for the expertise of our team and the tried and tested methods that have made us into the industry-leading company that we are today.
If you are interested in custom plastic extrusions from SFR, don't hesitate to call us today. You can even fill out our online form to request a quote, and someone will be in touch with you shortly.
Superior Custom Plastic Extrusion - 8/30/2016
If you are designing a product with very specific plastic extrusion specifications, it can be difficult to find the right manufacturer for the job. Thankfully, SFR Industries is a leading manufacturer of custom plastic extrusions. When you choose to work with us, you won't be disappointed by the results! In fact, we're pretty sure that you'll be so impressed that you'll pick up the phone and call us right away the next time you need custom plastic extrusions. We believe in the quality of our materials and the reliability of our process, and all of our past clients are likely to agree. With SFR, you get a product that meets your specifications and exceeds your expectations every single time.
SFR Industries stands out among competing plastic extrusion companies because we believe in a high standard of customer service and an on-going commitment to technological improvement. We want to be on the cutting edge of plastic extrusion technology, and that's exactly why we've been an industry leader for over 35 years.
The advantages of custom plastic extrusion at SFR begin with our wide range of superior plastic materials. From various types of rigid and flexible PVC, to Green Vinyl, Polyethylene and beyond; we can choose the perfect materials for your application! We know that it isn't possible to create functional plastic extrusions unless you start with the right materials, so we make sure you have plenty of options before production begins.
Speaking of production, how will you know that the design we have developed is what you are looking for. That's easy. Before we move to full scale production of your custom plastic extrusions, we will create a prototype for you. Having a set of specifications is great, but having a physical model is even better. Once you're satisfied with the dimensions and features of the prototype, we can get work and start manufacturing your plastic extrusion parts.
For a truly customer-oriented experience with quality that you can depend on, trust SFR Industries with all of your custom plastic extrusion project. Contact us today for more information or fill out the form on our website to request a quote for your next project.
A Leader Among Plastic Extrusion Companies - 8/10/2016
Plastic extrusion is used to create thousands of different types of products, so there are many different plastic extrusion companies in the market. There may be lots of plastic extrusion providers to choose from, but SFR Industries truly stands out. We're unique because we've been in this business for almost 40 years, and in that time we've developed industry-leading techniques and expertise on plastic extrusion. We've also developed a large and loyal customer base because people have learned to trust our top notch craftsmanship and engaging customer service. We are especially good at meeting the needs of the customer throughout the design and manufacturing process so that they have lots of opportunity for input before the final product is created. We like getting feedback and having our designers work with you, because in the end it results in a product that lives up to your expectations.
Our design assistance process begins by taking your ideas and formulating a set of specifications that will work with your product. We'll work with you to pick out the right materials for your specific application, and then we'll begin designing a prototype of your plastic extrusion. All along the way, we'll make sure you are getting the most possible value for your project. We do this by working with economical materials and putting in place a production process that is as efficient as possible.
SFR is a leader in the plastic extrusion industry not just because of the quality of the products we create, but also because of the many value-added services that we offer our customers. These include: quality control, custom colors, secondary operations, stock and draw program, and - of course - excellent customer service. We offer all of these things because we always want to put our customers first and earn their trust in order to gain repeat business.
To find out what SFR Industries can do for you, request a quote using the form on our website, or give us a call at 1-800-369-9410. Find out for yourself what makes us a leader among plastic extrusion companies!
Extrusion Profiles in Unexpected Places - 7/28/2016
At SFR Industries, we create custom plastic extrusion profiles for clients in all sort of industries who are using them for all sorts of interesting applications. The extrusion profiles that we create can end up in unexpected places, and you may see them in everyday objects that you normally wouldn't give a second thought to: bumpers, window trim, multi-purpose U channels, tools and more. Just look around and you are bound to see something closeby that was made using a plastic extrusion process. That's because creating extrusion profiles is cost effective, precise, highly customizable and very efficient. As manufacturers of all sorts of goods and equipment realize this, extrusion profiles will only become more popular.
The great thing about using a plastic extrusion process is that it allows for such a high degree of modification and customization. A die can be created based on a very specific set of dimensions, and then the exact shape can be created in plastic by pulling the material over the die. You can literally take an idea and then form it into a real part at a very low cost. Materials can be varied to create the perfect formula for the application, and dye can be added to help the profile either blend in or stand out. At SFR Industries, we work closely with our customers through every stage of the design and production process to make sure that we create the exact extrusion profiles that they are looking for. We can even run off prototypes using a customized die to make sure that profile that we are creating can be integrated successfully into your application.
We have worked with industries like construction, furniture, equipment manufacturing and more. You never know where extrusion profiles are going to show up next, but you can be sure that SFR Industries will always be on the cutting edge of plastic profile extrusion technology! To learn more about our process and our many capabilities, call 1-800-369-9410 today, or browse through the content on our website. You can trust SFR's experience and expertise to make your project a success!
Door and Window Trim - 7/7/2016
Next time you take a trip to your local hardware store, you might notice the plastic trim that is sold in the same department as windows and doors. This trim creates a border around windows and doors after they are installed, effectively sealing them so that no water or air can pass through to the interior of a home. The trim itself is little more than a plastic channel that is cut to match the length and width of a door or a window. It is usually dyed to match the color of the frame so that it blends in. The trim also helps to create a finished look by covering up any gaps or screwheads that might be exposed from when the door or window was installed. Plastic channels are sold commercially since contractors use trim when they are doing the finishing work in a house, but it is also readily available to homeowners who do their own renovations and repairs.
Plastic channels from SFR Industries can be created using a variety of materials that should be selected based on the intended application. We can manufacture channels in everything from rigid or flexible PVC, to polyethylene, polypropylene and more. We even have a special Green RoHS vinyl with a polymer that is derived from 57% seawater. This material is 100% recyclable, so that no environmental damage is done when the material is disposed of.
Plastic channels are made using a typical plastic extrusion process. The heated plastic material is pulled over a die that stretches it and forms it into a channel shape. U channels are shaped like a U and are pulled over a die the forms them to that shape. A C channel and J channel are also shaped like the letters that are named after, and they are pulled over dies that shape them to the desired form. After being created, plastic channels are cut and shipped off to suppliers.
Whether you need plastic channels for a new product that you are creating, or you supply hardware stores that sell plastic channels for door and window trim, SFR industries can manufacture high quality channels for all of your needs. You can choose the dimensions, materials and color, and then we can get to work making the product that you need. Get in touch with us to learn more about our production capabilities.
Plastic Extrusion for Deckbuilding? - 6/21/2016
A deck on the back of your house is a great addition for the warm summer months when you can sit outside on your patio furniture and enjoy grilling in the sun. Many homeowners add decks to their houses to increase their resale value and add another dimension to their living space. Decks have traditionally been constructed using pressure treated lumber, but plastic-wood composites are an increasingly popular material of choice for deck builders. This material is easy to clean, immune to rot from exposure to moisture and it can be made to look like wooden boards. For homeowners with children, a plastic-wood composite deck can be a safe option because there are no possible splinters to worry about.
Contactors assemble plastic-wood composite decks in much the same way that they build decks using lumber. Pre-drilled holes in each plastic-wood board accommodate screws that connect the floor of the deck to the frame. The deck can easily be hosed down to remove dirt or scrubbed off if something is dropped on it.
The creation of plastic-wood composites actually begins with the plastic extrusion process. Fine wood waste is mixed with plastic pellets that are all melted down together and run through a plastic extruding machine that forms the material into the shape of boards. These can be cut to the desired length, and they can be created in a variety of colors depending on the desired finish. Unlike real wood boards that loose their color with age, these plastics will look new for years to come and give you the visual benefits of a wooden deck without the associated maintenance or decay.
As technology continues to develop and manufacturers search for more ways to recycle old material, plastic extrusion will continue to be an important process. At SFR Industries, we are proud to offer high quality products that are environmentally friendly. We want to be a part of the green solution, which is why we use as many eco friendly compounds as possible. Contact us today to learn more and request a quote for your plastic extrusion project.
Why You Might Need Our Custom Plastic Extrusion Capabilities - 6/10/2016
It's no secret that SFR Industries is a leading provide of custom plastic extrusions. We've been in the business since 1978, and we've always prided ourselves on being competitively priced and strongly positioned to offer the best plastic extrusion services on the market. We take the leadership within our company very seriously, which is why our management team has over 150 years of combined experience in the industry. We are big believers in a customer-centered approach to business. Rather than strategize how to produce the highest volumes or maintain the lowest costs, we optimize our business to make sure that the customer's exact needs are always met as quickly as possible.
As part of our customer-centered approach, we offer a one day lead time when someone inquires about a custom plastic extrusion. With our stock and draw program, we can create a mockup of what that customer is looking for, and then send it to them for review. If the extrusion features and specifications are correct, then we will begin production. If they are not, we will communicate with the client and help them by designing a better solution for their application. Our design experts have the technical expertise to create something that works for you, even if you only have a vague idea of what you need. Besides design assistance, we also have a great selection of quality materials that you can choose from before we start manufacturing your plastic profiles. From several types of PVCs to Polyethylene, you'll easily be able to find the ideal material for the conditions of your application. In the end, you will have a superior, durable product that you can trust.
We are well aware that the industries and businesses we serve are also very busy, so we do everything we can to get prototypes out and begin the plastic extrusion process so that our customers have their plastic profiles when they need them. We always put you first, so stop thinking about who can provide you with custom plastic extrusions and give SFR Industries a call today!
Poly Extrusion Technology is Everywhere - 6/2/2016
Plastic materials are used to make many consumer products, and many of these products are manufactured using a poly extrusion process. In this process, melted plastic materials are fed through a hopper into an extruder machine. The machine turns and melts the material into molten polymer, which is then forced onto a die that shapes it before allowing it to cool and harden. The result is a strong piece of plastic that can be used in a variety of product applications. At SFR, we use this exact process to create poly extrusions for clients in furniture, construction and many other industries.
One application of the poly extrusion technique that you are probably very familiar with is a drinking straw. You might not have realized how a drinking straw was made, but that is the exact process. The materials are fed into the extruder, melted, and then stretched over a small die. The walls of a straw are very thin to reduce waste because they will eventually just be thrown out anyway. After the plastic has been shaped into a long tube, it is cut into the appropriate length and the straws are packaged. After being packaged they are shipped out to distributors and restaurants across the country. When you order a meal at a fast food restaurant and sip on a beverage using a plastic straw, you are personally benefiting from plastic extrusion technology.
Of course, poly extrusion is also used from making products that are much more durable than plastic straws. What's interesting though, is that the same basic principles are used no matter what the application. The plastic materials that are fed into the hopper can be adjusted, and various dies can be used to create different tube diameters and thicknesses, but the overall process remains the same.
At SFR Industries, we have mastered the poly extrusion process, so we are capable of manufacturing whatever plastic products you need. Our customized approach means you can come to us with a drawing or a set of specifications that we can then manufacture in-house and dye to your desired color. To learn more, give us a call today at 1-800-369-9410.
Thermoplastic Extrusion Explained - 5/12/2016
Many of the items that you use every single day either at home or in the workplace are manufactured using thermoplastic extrusion. Even so, you may not know exactly what thermoplastic extrusion is or how the process works. The process is relatively quick and simple, but it also requires precision. Manufacturing begins by melting raw thermoplastic material down into a semi-liquid form. The best type of plastic for extrusion is a resin base of small beads because this melts quickly and it can be easily molded. The melted plastic is forced by a pump through a nozzle and into a die that shapes it into one continuous profile. This long piece can then be cut down into sections.
Thermoplastic extrusion cannot be performed without the use of a plastic extruder machine. This machine provides a way for the operator to feed the raw plastic material into a hopper from which it is pulled into the machine and melted. The die on the other end creates an even flow of liquid plastic. A die is usually customized to match the dimensions of the product being created. During this entire process, temperatures have to be carefully controlled to attain the desired effect with the material. All varieties of plastic has a slightly different optimal temperature. The optimal temperature is the temperature at which the uniform fluidity of the plastic is maximized, while at the same time the possibility of stress and warping is minimized. If the material is too hot or too cold, the right balance will be lost and the form or function of the plastic will be ruined.
Thermoplastic extrusion is a low cost process with the potential for very high rates of production. Because extrusion can be do so quickly, a facility can optimize its process to maximize manufacturing efficiency and come out way ahead of other methods. Extrusion can be used to create piping, plastic sheets, weather stripping and more. Get in touch with the experts at SFR Industries today to find out more about how our custom thermoplastic extrusion capabilities could benefit your business.
Plastic Profile Extrusion Tooling - 4/25/2016
Dating way back to 1978, SFR Industries has been providing customers with top of the line products and high quality customer service. We started in a 1,800 square foot building and now we call a 66,000 square foot facility in Cadott, Wisconsin home so it's safe to say that our philosophy of high quality products and premium customer service is working for us and our customers. We have over thirsty extruders, and value added accessory equipment at the ready for your next project and our in-house tooling center is next to none in the industry. Over the years we have worked with a number of different companies that are a part of a wide range of industries. These different experiences have allowed us to expand our knowledge and refine our practices in order to provide the best possible product for various applications and client needs.
Plastic profile extrusion tooling is something that we have invested heavily in because we know the value that it provides to our customers. Not only does SFR Industries invest heavily into our tooling equipment but also into our personnel. Having a team that really knows their stuff is the key to reducing product development costs and cutting out excess time that is required for new product introduction and implementation. We are proud to say that our capabilities are some of the highest in the industry in terms of standards for plastic extrusions. Our main goal is to get your tooling cut done the first time as while as building a die that will perform at the best possible level for many years after purchase.
Contact us today for more information at 1-800-369-9410 or shoot us an email and we'll get back to you on how SFR Industries can turn your plan into a reality. From plastic extrusion tooling to high quality plastic extrusions themselves, SFR Industries is your one stop shop.
SFR Industries - Plastic Extrusion Profiles - 3/31/2016
SFR is a leading manufacturer of custom plastic extrusion profiles. A plastic profile is simply a shape that matches the specifications of a specific product or application. Extrusion refers to the extruding process that is used to manufacture these plastic shapes. SFR Industries has been in the plastic extrusion profile business since 1978, and today we compete on a national level by offering unparalleled quality and customization.
When SFT partners with someone to create plastic profile extrusions we bring our material expertise, in house tooling design and several value-added services to the table. Our value-added services include:
Design assistance: Our professional team can provide cost-saving ideas that improve functionality
Secondary operations: The secondary department can add extra features to your plastic extrusion profiles. This can include deburring and custom packaging.
Custom colors: We have color suppliers who can match any color to any material.
Quality control: Inspections and records are made during production.
Stock and drawn program: SFR offers this service for high-volume plastic profiles. This can significantly decrease overall costs.
Customer service: We can't emphasize enough how seriously we take our commitment to excellent customer service. Each company that partners with SFR Industries is assigned their own customer service representative. This representative is an advocate for the plastic extrusion needs of your business.
These factors are all combined to manufacture an excellent product that will perform well in its final application.
Because a plastic extrusion profile will only be as good as the materials that are used to create it, we begin by selecting the correct material for your job and then explaining the exact manufacturing process that we will use, so that you are well aware of what your plastic extrusion profile will look like when it is complete. We work with a variety of materials, like rigid and flexible PVC, to create a product that conforms to your needs.
At the outset of the manufacturing process, the chosen material is heated to liquid form where it can easily be shaped and molded into a plastic profile. The heated material is shaped, cooled and cut and then the final touches and packaging are added to the profile. Because we've spent so many years improving this process, we have one of the highest production capacities in the industry.
SFR partners with industries like furniture, construction, point of purchase and original product manufacturing. The strong relationships that we have developed with major companies in these industries have provided us with the experience and resources to continue developing the best plastic extrusion profiles on the market. Our plastic extrusion methods are always cost-effective without compromising quality.
SFR Industries: Who Are We? - 2/5/2016
SFR Industries was founded in 1978, over the years we have become a leader in the custom plastic profile extrusion industry and we continue to be a leader on a national scale. Our business was originally started in a 1,800 square foot building, but now we can a modern 66,000 square foot facility in Cadott, Wisconsin home. We take a lot of pride in the work that we do and are invested in the needs of our customers and their individual needs and requirements. The SFR staff includes 150 years of management experience on top of our state of the art electrical discharge machining tooling center, over thirty plus extruders and equipment that offers value added accessories to your products.
Our customers come from a variety of backgrounds and industries, from the furniture industry to a wide range of other manufacturing industries. SFR Industries have provided over 7 million lineal feet of T-molding in a number of different styles, sizes, shapes, colors and even a diversity finishes. In addition to manufacturing industries we also serve recreational, transportation, electronic, point of purchase, distribution and building product industries. We understand that customers are the back bone of our company; we are committed to building relationships based on honesty, openness, and trust. We view each and every customer's business as an extension of our own business.
Our management team has years of experience within the industry, and have extensive knowledge of all aspects of our company. Our president, Robert W. Strumm, has forty years of experience in the plastics and extrusion industry and manages all of our production aspects of SFR Industries. So you be assured that when you do business with SFR, you are getting the best possible product that is made for your application and based on your preferences and specifications.
SFR at Global Shop 2016 March 23-25th
- 11/12/2015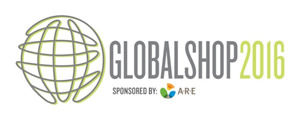 SFR Industries is excited to again have the opportunity to exhibit at this year's Global Shop 2016.
Please stop by and visit us at Booth 4057 for more information on profile extrusions that we can help you and your customer to take shape. SFR has been in the POP Industry for many years and have worked with many Companies with large and small roll out programs.
We are here to help you to design your profile to work proficiently for your display, look very appealing by consumers and be very competitive in the market.