Child Safety Gate
Making your ideas take shape
Keeping a child safe from danger is an incredibly important responsibility. We are proud to have helped in the manufacturing of a safe, durable and economical child safety gate featuring convenience, strength, and security.
Application
North States Industries is a leading producer of residential protective gates. SFR Industries' development team and North States Industries designed a cover for a child safety gate that telescopically expands and collapses.
This application featured many design challenges to overcome. That is what SFR Industries is all about. We are up for the challenge.
Challenge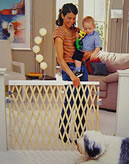 The manufacturing of this special feature was not going to be an easy feat due to the independent production of each component part. The component assembly required special techniques to maintain consistency while minimizing costs in competing with off-shore competitors.
SFR Industries is always ready for a challenge and we work diligently to accomplish your goals.
Approach
Extensive cooperation during the design phase resulted in component dimensional consistency, minimizing the assembly costs.
Working together with North State Industries design team this product was carefully engineered to produce the final results needed to comply with all safety and security needs.
Result
The ultimate design included three interlocking plastic profiles with stops and holes. All parts were assembled and thoroughly quality checked at SFR Industries. This allowed North States Industries to forgo incoming quality checks and quickly send the parts directly to the production line. The child safety gate has performed exceptionally well and continues to supply safety to many residential homes.