SFR Industries An Experienced Turn-Key Resource for Plastic Profile Extrusions
SFR Industries is a leading manufacturer of custom plastic profile extrusions for a variety of industries including residential, commercial and institutional furniture, store fixtures and POP displays, plus a diversity of original equipment manufacturers. In addition to our numerous standard plastic profiles, we specialize in assisting you with your unique custom profile extrusion requirements.
To consult with an experienced member of our team call or email now:
(715) 289-4440
service@sfrindustries.com
Our Profile Extrusion Process
Our plastic profile extrusion manufacturing process creates ongoing, uniform, two-dimensional, cross-sectional consistency with a range of materials and specifications. This process includes:
Thermoplastic raw material comes in pre-compounded pellet form.
Electrical and frictional heat within the extruder softens the plastic as it is continuously pushed forward through the die tool opening. The die opening begins the process of shaping the plastic extrudate into the finished part.
The plastic is further sized and cooled to the desired shape while being pulled downstream to ultimately be spooled or cut to length.
Sizing and cooling are critical components of the process. Profile sizing options include traditional air template and vacuum sized or calibration cooling systems.
Where volume justified, value-added operations are incorporated downstream between the sizing and cutting stages.
Request a Quote
Job Openings
Pelletizing Services
As you change, we change with you…
With over 35 years in the plastic extrusion business, we know how to remain a leader in custom plastic profile extrusions — BY KEEPING UP WITH CHANGE.
We've developed new eco-friendly materials and services to accommodate our customers ever changing requirements. Most importantly, we've learned how to build strong customer relationships. Besides being courteous and friendly, we deliver effective, efficient help. We work with you to provide a viable, lasting product for the marketplace.
Learn more about our plastic profile
extrusion company.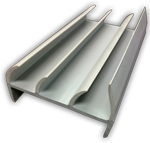 Looking For Aluminum Alternatives?
Plastic extrusions are a cost effective alternative to aluminum. Call us for a review of your extrusion.
WHAT'S NEW AT SFR INDUSTRIES
Green RoHS Vinyl™
Environmentally Compliant Formulations for the Planet
SFR Industries along with Teknor Apex, a major vinyl and thermoplastic compound
manufacturer, has developed an eco-friendly vinyl compound for T-moldings to be utilized
with commercial or institutional tabletops, office furnishings, and work surfaces.
Read more about Green RoHS Vinyl.